Dateline & Duke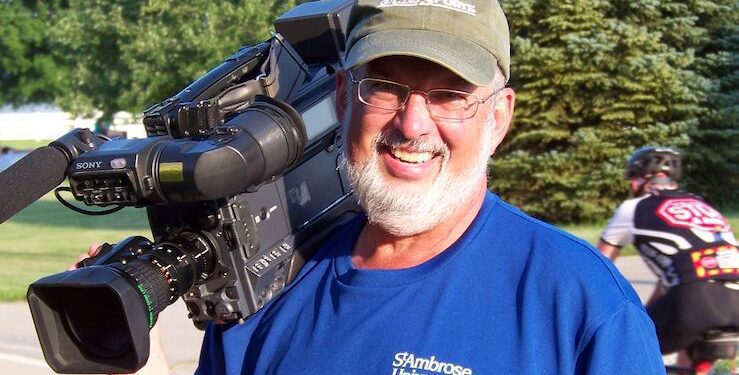 Not many shows on TV today can claim that they've been on the air for 40 years. But as of February 2nd, 2022, DatelineSAU, St. Ambrose's student-run campus newscast, reached that magnificent milestone.
To get to Dateline, we have to look at the show's precursor Campus Report. It was the brainchild of Father Charles Shepler, founder of both the TV and radio stations on campus.
The 30-minute shows highlighted campus fine arts and student talent. The show ran for a few episodes but only lasted for about a year.
Dateline came about when the need arose for some programming to fill time on the TV channel, which recently moved from channel nine to channel five.
ATC-5 Dateline premiered in 1982, featuring basketball highlights and calendar campus events. The format was exactly like it is today with one exception. The original Dateline was only allowed to be two-minutes long. Duke Schneider, SAU professor and current operations manager at SAUtv, explains it best.
"At the time our cable channel had Financial News Network and we had two minutes every hour so we did these little two-minute fillers that we could throw in. Some of it was a community calendar or campus events but it became more of a news thing as time went," Schneider explained.
Eventually, Financial News Network was acquired by CNBC and taken off the air. The TV station replaced programming with another network and produced a more long-form Dateline newscast which has been Dateline's format ever since.
David Baker, operations manager at KALA-FM, was a student under Duke and remembers distinctly the work it took to put that small two-minute newscast together.
"So, everything was analog back in my day – the olden days. I mean, everything was three-quarter-inch tape recordings. We would post-produce some things. Things were live in the studio as much as we could," Baker said. "We didn't have non-linear editing. Everything was cut edits, and if you wanted that non-linear look and dissolves, you had to have multiple tapes running and people helping you."
Things have certainly gotten easier for the production of Dateline, but the original concept remains. Dateline was, and still is, an outlet for students to prepare themselves for the world of television broadcasting or communications—a doorway to students' future careers. If the metaphorical door was locked, students could always ask Duke for the key.
"My attitude always has been I open the door and get out of your way," Schneider said."Sometimes students will thank me for getting them the job, but I say oh no, I didn't get you a job, you got yourself a job. If you weren't good at what you're doing you wouldn't have got the job."
Duke will soon be turning those keys both metaphorically and physically because he is retiring after 43 years at St. Ambrose. He has seen the TV station change from TV-9 to ATC-5 to TV-11 and SAUtv. He has worked at SAU under Presidents Bakrow, Rogalski, Lescinski and Novak. He has been present at every Dateline taping since 1982.
Baker recalls one of his fondest memories with Duke when running Saturday master control back when he was a student at SAU.
"Duke would always come down around nine o'clock or nine-thirty when Pee Wee's Playhouse was on CBS because it featured Paul Reubens who played Peewee Herman, and we would laugh so hard. I would say how could they allow this on CBS for kids! It was filled with so many double meanings, sometimes Duke would bring me a biscuit from Hardees, and we would just watch it together," Baker recalls.
Duke has always been good about making sure that the original vision of Dateline has been upheld. Anyone can do it; they don't have to be communications majors. All they have to have is an interest in broadcasting.
Retirement won't keep Duke away from the camera. He says he plans to continue working alongside many Ambrose alums doing freelance work for MC22 sports in his free time. Retirement will also bring him back to campus, as he says he plans to attend concerts and sporting events.
"It will be nice to go to a concert or play and actually sit down instead of stand by the camera for two hours, and I won't have to worry about anything else," Schneider said.
His retirement will be an adjustment for all, but nobody will forget Duke—friend, mentor, professor and ham-radio enthusiast. As for Dateline, the four-decades-old newscast shows no signs of slowing down. Like many things, it only gets better with age.
It's the end of an era at SAUtv, so don't forget to take the time and thank the man that's been at the helm since the beginning. Let's raise a glass to 40 years of Dateline and 43 years of Duke Schneider.