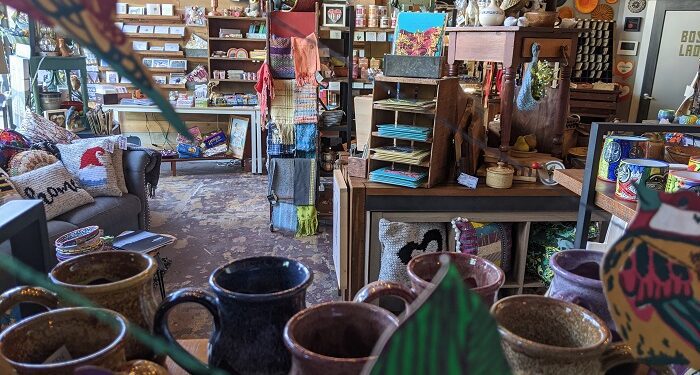 Entering Crafted Quad Cities is like entering a walk-in Etsy shop, as the owner describes it. Just about everything in the store is handcrafted by your neighbors, and it's only a short walk away from campus.
"We have work by over 150 local artists," Mary Talbert, the owner of Crafted QC, said. "It's a great opportunity to actually look at things in person."
Mary Talbert enjoys painting, jewelry making, sewing, and much more.
Crafted QC started out in 2015 as a 600 square foot shop with just Talbert and 12 other people contributing artwork. It has since moved its location to 221 E. Second St., Davenport, Iowa and grown to over 1,300 square feet with more than 12 times the number of artists represented.
"I had always been a maker," Talbert said. "I was a graphic designer and did my first art show in 2010. It was always a someday dream to open my own shop."
Talbert's someday dream became a reality that not only benefited her but other artists in the local community as well.
"I love the Quad Cities, but as a community, we tend to be pretty hard on ourselves," Talbert said. "It was more of an organic thing to involve them."
Many things came out of this mutually beneficial relationship between Crafted QC and the local community—and not just monetary gain.
"I love seeing the friendships that are formed because of the store," Talbert said. "People meet here and it's like they've been friends their whole lives."
But these relationships were put to the test during the hardships that Davenport has had to face recently.
"The past two years have been really hard with the flood and the pandemic," Talbert said. "It was pretty brutal. There were days early on that I wasn't sure I could make it through."
These struggles forced them to think about things differently, such as dealing with a closed in-person store by opening an online one. The community came together to learn, grow, and take care of each other throughout everything.
Now, Talbert has big plans for the future, including looking into opening a second store, expanding the space, and even making more art in her personal life. Sales are going back up, and she is looking forward to the light at the end of the tunnel.
Coming up relatively soon, Crafted QC will be hosting its fourth Crafty Cat art fair after they had to skip this past year due to the pandemic. There will be vendors selling everything from homemade to vintage art, live music, and lots of shopping.
"I've always gone to shows, and the spirit there was just so much fun," Talbert said.
Besides the art fair, Crafted QC also holds workshops on skills like painting, knitting, crocheting, or even cookie making. They also have a possible partnership in the works with a local woodworking academy for the workshops. 
If you'd rather take part in Crafted QC more directly and submit your work for consideration to be sold at the shop, instructions are located here.
"I want everything that comes into the store to elicit an emotion," Talbert said. "I wouldn't necessarily say we're the trendiest store, so I usually pick what's aesthetically appealing to me."
Talbert wants there to always be something unexpected in the store and enjoys giving artists a chance to see what it's like to have a small business.
"We appreciate any support that anyone can give," Talbert said. "Small businesses have always been important to me, we're what give communities their character."