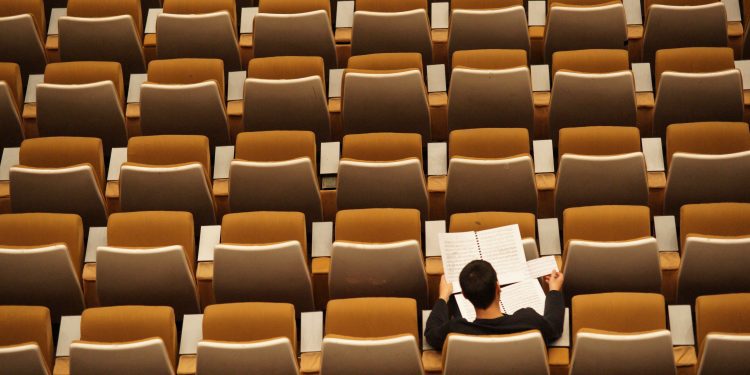 In late August, the University of Iowa and Iowa State University were the top two worst coronavirus outbreaks in The United States. Their per capita rates were worse than any individual country in the world.
Iowa State started classes on Aug. 17, and there were 15 coronavirus cases reported in Ames. Ten days later, there were 209 cases reported. University of Iowa classes started a week later on Aug. 24, and coronavirus cases in Iowa City were reported at 58. Within 4 days, cases had surged to 228.
At both Iowa and Iowa State, there were parties and bar hopping which led to the spread of the virus. More specifically, at Iowa State, there were huge mass gatherings the weekend prior to classes resuming. Known as "801 Day," students start partying at 8am, and there were photos and videos circulating around social media of mask-less students in swarms all throughout campus.
Melissa Sharer, director of the Masters of Public Health (MPH) program at St. Ambrose, said the failure to have a mask mandate, reopening the state in late May/June, and opening schools when the positivity rate was too high to open safely are the reasons why Iowa is struggling with the coronavirus. She gave insight on why Ames and Iowa city were specifically hit harder.
"Iowa City and Ames have very large returning student populations. We were not surprised at outbreaks, and we also applaud the Governor shutting down bars in those counties. This should be broader, as should guidance on limiting social groups gatherings," Sharer said.
Sharer's co-professor in the MPH program, Colleen Doak, spoke about why college age groups tend to drive the spread of the coronavirus.
"Many young people are asymptomatic and are spreading the virus without knowing it. Secondly, developmentally, young people in their late teens and early twenties have a strong natural tendency to socialize. They tend towards what older age groups may see as 'high risk' behaviors," Doak said.
Kim Reynolds, the governor of Iowa, still has yet to enact a mask mandate in Iowa, saying that it would be "impossible to enforce." Sharer and Doar both said the data is clear that mask wearing reduces the spread of the coronavirus.
"If people do not trust or understand the science we would advocate that you ask them why. Don't police it, just say 'I'd like to better understand your perspective on this' or 'Where are you hearing that?' It's always good to understand where the information is coming from," they said.
Megan Grady, a senior at St. Ambrose, gave her thoughts on how she thought Reynolds was handling the pandemic.
"I think that the Governor has really dropped the ball when it comes to the safety of Iowans. I am from Illinois, so I was initially very nervous to come back to school because of the lack of regulations. A lot of people in my hometown thought Governor Pritzker's regulations were too strict, but I felt safer there than I do here," Grady said.
St. Ambrose has 21 cases of the coronavirus as of Sept. 14, which is about 6% of the campus population, including students, faculty and staff. With the recent surges at both state universities in Iowa, Sharer said it is too early to know if Ambrose will feel the effects of it, especially since Davenport bars still remain open.
"First thing we thought of when Iowa City bars closed is now students will come to Davenport bars, which remains a risk in our area. This is the challenge when only shutting down part of the state, or a few counties. We are concerned with Scott's rising rates too, and our proximity to Iowa City," Sharer said.
Doak explained the risks of not only traveling to high risk places like Iowa City, but to your own hometown.
"Whenever students go back and forth there is going to be greater transmission to both the home community and to the university community. So I would ask all students to stay on campus as much as possible. If you need to go for a weekend, avoid socializing or going out to bars and restaurants," Doak said.
To fight the virus, St. Ambrose has put together a number of policies to allow in-person classes and to hopefully remain on campus the rest of the year. Despite this, there remain students who continue to party and go out to bars, disregarding the careful planning and effort put together by the faculty and staff. Grady gave her opinion on those disregarding social distancing policy.
"I really would like to be on campus as much as possible for my last year here. I run cross country and track, and the thought of not being able to finish my running career for Ambrose just makes me sick. Seeing people put that in jeopardy for the sake of going out makes me really sad and angry," Grady said.
President Donald Trump has talked about a possible vaccine being available as early as before Election Day. Sharer and Doar said there is no chance a vaccine will be ready before Thanksgiving.
"Vaccines are in trials now, and this is as fast as it has ever gone. Trials exist to make sure vaccines are safe to use, and the process of testing takes too long. If there is an effective vaccine, it will be rolled out slowly, and it will take months to ensure it is safe for every possible vulnerability," they said.
In the meantime, everyone must do their part to social distance, wear their masks, and keep up with their hygiene until this pandemic is over. Grady has been doing a number of things to keep busy while staying safe.
"I have been staying in my dorm as much as possible, with the exception of some campus hosted events. I don't eat in the caf much anymore and either get my meals to go or cook in my room. My roommates and I have been playing a lot of Mario Kart and we have a list of movies we'd really like to watch," Grady said.
If you want to learn more about the coronavirus and all things Public Health (PH), please reach out to [email protected]. The coronavirus and infectious disease is only a small part of the PH profession, but if this pandemic is making you want to be a part of the solution and become a PH professional, SAU undergrads can get their BS/BA + MPH in 5 years.