Collegiate Women's Basketball in the Spotlight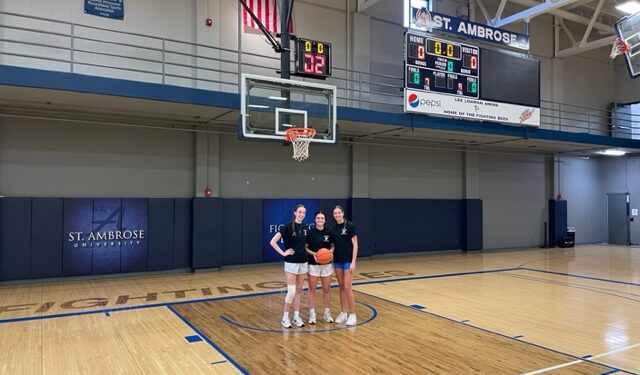 The SAU women's basketball season starts in early November, and there are a couple of
national players fans are looking forward to seeing play. These players are University of Iowa's,
Caitlin Clark and LSU's, Angel Reese.

People are excited to see these two players compete because of their success during the
women's basketball March Madness tournament that occurred this past spring, hosted by the
National Collegiate Athletic Association (NCAA). Caitlin Clark and Angel Reese both played in
the championship game. They were both the top players and still are regarded as some of the top
players in their programs for the 2023-24 season.
When bringing this down to the level of how this affects St. Ambrose University (SAU)
community, specifically women's basketball, it is helpful to know that there is a connection to
the Iowa women's basketball team. Iowa's Head Coach, Lisa Bluder, is a former SAU women's
basketball head coach. With her connection to SAU, we decided to check in with some of the
current SAU women's basketball players and asked them about their opinions about both Clark
and Reese going back to their prospective programs for their senior seasons. We also asked SAU
players how they thought it could help or hurt the viewership of women's basketball and
women's sports.

Although the women on the SAU team aren't on the division one level, they will still
watch and keep up with what is going on in the world of women's basketball. Some players on
the women's team have different levels of experience at the collegiate level.

The players we talked to say there is a general census that it would help out the sport as a
whole.
SAU sophomore post player, Abby Wolter, says, "I think that it will help viewership from
both ends. Caitlin Clark is a great athlete and has made a huge name for herself and is someone
who tons of young women look up to. Angel Reese caught some hate for celebrating but she also
gained quick fame from it, after all, all publicity is good publicity."

After all the publicity that both Clark and Reese had, it not only helped themselves, but
also promoted the colleges that they attend.

When we asked a junior guard transfer, Liz Fisher, who came to the SAU women's
basketball team this season, she says, "I believe that it will help women's basketball
tremendously because of their impact in March Madness. The tournament was exciting and fun
to watch, and I think people are going to want to tune in and watch them compete during the
regular season based on what they showed within the tournament. For example, Iowa has sold
out their regular season home games, everyone wants to see Caitlin Clark compete. Overall, I
think that women's basketball is finally getting the attention they deserve, especially the players
like Caitlin Clark and Angel Reese."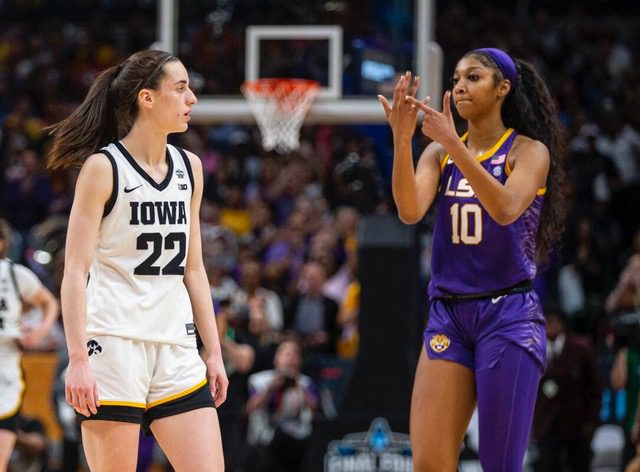 Prior to the tournament, both teams, as well as women's basketball as a whole, didn't get
as much attention as men's basketball. There was a general consensus among these players,
which included another response from a sophomore guard and post combo, Erica Bostwick, who
says, "I think it will help women's basketball viewership because they are great players and they
bring a lot of energy to the court. I also think people will watch to compare the different
mentalities and attitudes of Reese and Clark."

Although both Clark and Reese attracted attention in the tournament, they also had some
different attention because of their styles of play, as players have mentioned. You can tell that not
only is the SAU women's basketball team ready to see them play, the fans are also excited, too.
Lillian Reid is a staff writer for The Buzz.