Celebrating the success of first-generation students at SAU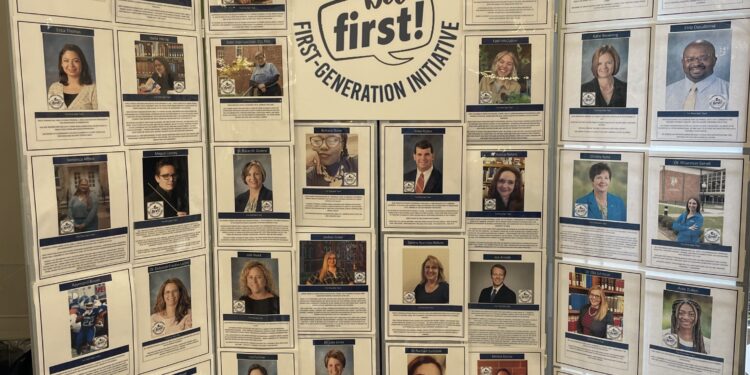 On Monday, Nov. 8, the St. Ambrose Student Diversity, Equity, and Inclusion group celebrated and honored first-generation students, faculty and staff at SAU.
The day started off with live radio broadcasting from KALA-FM and ended with a social in the Beehive. Junior, first-generation student, Faith McCubbin says she faced some challenges as a first-generation student. 
"None of my family had been through the college experience," McCubbin said. "The whole process was really new to my family. "
McCubbin says one of the biggest challenges she face was figuring out how to pay for college.
"I think the most difficult part was the financial part of it," McCubbin said. " Figuring out financial aid and scholarships was really confusing but the financial aid department was very helpful with that part of it."
When she first arrived at Ambrose, McCubbin quickly realized that getting involved helped her to flourish. 
"I definitely think that being involved in choir helped me a lot because it helped me build that base," McCubbin said. " I also think that Dr. Windt is a very helpful and understanding professor that is really there to help students, so that was really to have a professor who was so willing to be helpful.
When looking back on her early years at SAU, McCubbin is truly thankful for the foundation she built. 
"Having that good support system and building those connections with professors has really been a lot of help," McCubbin said. " It is nice to know that I have those foundational people and that good support system here that I know I can go to with any questions as I encounter things."
Being a first-generation student can be quite intimidating, but McCubbin has reassuring words for those students who feel unsure and uneasy. 
"I wish that people knew that being a first-generation student didn't have to scare you off from going to a university," McCubbin said. "There are people here that are specifically meant to help first-generation students and kind of help guide them."
McCubbin's best advice – get involved and ask questions.
"I know that going into college, you kind of have this idea that you have to have everything figured out and that asking questions or for help can be kind of a scary thought. But I think it is important to know that it's okay to ask questions and to not have everything figured out."