CCAC Player of the Week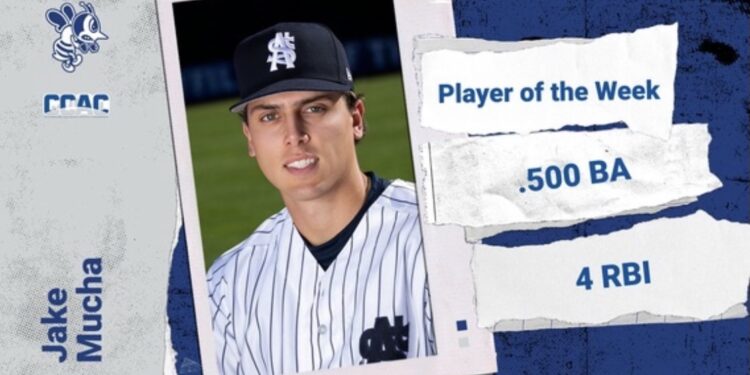 Jacob (Jake) Mucha is an outfielder for the Fighting Bee's Baseball team. He came to St. Ambrose after playing at South Suburban Community College in South Holland, Illinois. There he practiced vigorously every day In his first season, he played 60 games and went 41-19. In his second season, they went 42-19, the team was the NJCAA region four champions two years in a row. Junior College prepared Mucha for the SAU baseball program.
"I came to SAU because not only do they have a great mechanical engineering program, they also have a great baseball program that was a perfect fit for me," Mucha said.
Mucha is from Homer Glen, Illinois, and attended Providence Catholic High School. He started playing baseball at the age of 6 years old.
"Growing up, my dad signed me up for tee-ball, flag football, soccer, and basketball," Mucha said. " I fell in love with baseball and have played the sport ever since."
Mucha was recently recognized as Chicagoland Collegiate Athletic Conference Player of the Week. He has been a big factor in the success of the Fighting Bees this season. He had a .292 batting average overall with a .326 batting average in conference. He also had a .470 overall on-base percentage and a .478 on-base percentage in conference. The team is 18-8-1 placing second in conference.
"It made me feel great that I was able to make a positive impact on the team," Mucha said. "It also gives me a motivational boost whenever I see myself posted on the team's social media as a player of the game."
Mucha enjoyed meeting new people at SAU and will forever value the friendships he has made with his teammates.
"Those boys will be some of my best friends for life," Mucha said. "If I could tell the incoming freshman one thing it would be that you are going to have a great time playing the sport that you love while making some lifelong friends."