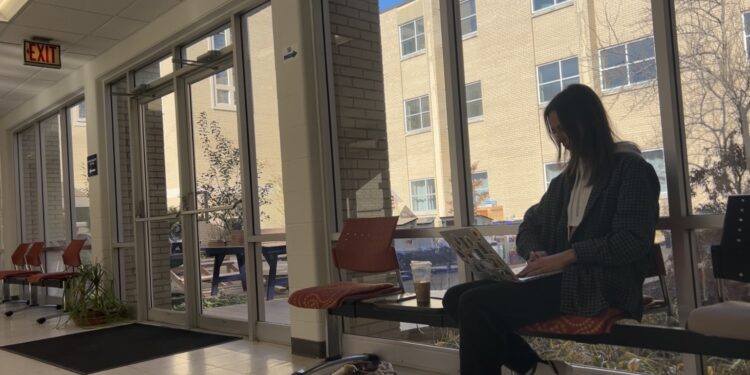 Photo by Kaylee Parsons
Students will soon be seeing images of insects on the windows in the Hayes courtyard
and campus experts say this is going to help sustainability efforts.

Hayes Hall is located in the heart of campus. It's not only a home for classrooms and
offices, but also a home for different bee species. "The courtyard is a sanctuary for native
species' pollinator gardens and there are exciting improvements to be expected possibly by next
summer," says Sustainability Committee co-chair and biology professor, Dr. Amy Blair.

The Campus Activity Board (CAB) and Student Government Association (SGA) began
collaborating on the project for the Hayes courtyard in 2019. SAU 2020 graduate, Sandra Blom
says, "We started the project as a CAB project, trying to pull in other student organizations.
After COVID, the project sputtered out. I was so excited to hear the project had been picked
back up."

"The project is a mural made up of 15-20 horizontal glass panes with images of native
plants and insects," describes SAU Catich Gallery curator Chris Reno. Dr. Blair says, "The new
double paned windows will be more sustainable than the current single pane ones."


Sustainability Committee co-chair and biology professor, Dr. Dennis Tarasi adds, "The new
windows are better for the environment because there is [argon] gas in between the two pieces of
glass. The [argon] gas acts as an insulation chamber, so there is less air leaking in and out of the
building." These new windows will help conserve energy used to regulate temperature inside of
Hayes Hall. Dr. Tarasi estimates, "About 70% more air escapes in and out of single pane
windows compared to the double pane." Not only will these windows be better for the
environment, they will also add an artistic element to the courtyard.
Dr. Blair adds, "The project itself went through much evolution." Eventually there was a
consensus to display a nature inspired mural, but Dr. Tarasi had concerns. "The issue with a
mural is that it requires constant upkeep so we figured out how to work around that," says Dr.
Tarasi. SAU Catich Gallery curator Chris Reno was one of the many masterminds behind this
project because he coordinated the fundraising and found the artist to design the panels.
The artist for this project is Lee Emma Running who, according to her website, has been
doing artistic window installations since 2007. Dr. Tarasi estimated around $10,000 spent on the
glass mural alone. For the courtyard repair, he estimated a total of $23,000 was spent. Dr. Blair
says SGA was their main source of funding.

GreenLife president and SAU senior, Greta Solbrig, says, "I think the mural will be a
really cool visual for people and will draw great attention to all the work done in the courtyard. It
will also hopefully build momentum for other sustainable projects." Greta shared that GreenLife
has many different projects they promote throughout the year such as Earth Day, the
Sustainability Festival, and even plogging (picking up trash while jogging).

Dr. Blair says that although many contributed to this project, she credits SAU alumni
Laura Meloy, Sandra Blom, and professor Mohamad El-Zein. In the future, be on the lookout for
a beautiful, nature inspired mural in the windows of Hayes Hall.
Kaylee Parsons is a staff writer for The Buzz.