BSU's Black History Month Recap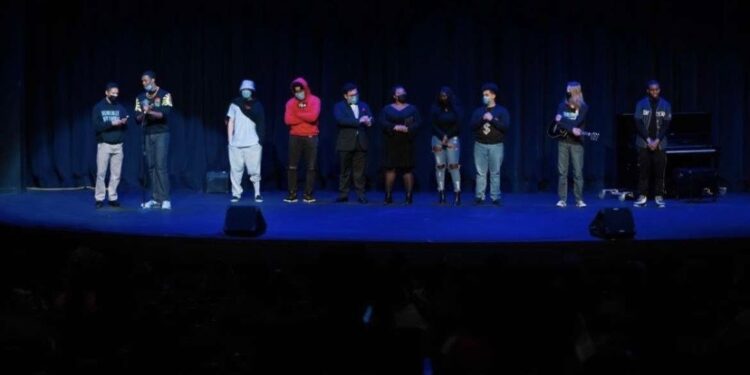 St. Ambrose University's very own Black Student Union represents nothing but positivity for its club members. BSU has shown and spread support throughout Black History Month by hosting several events such as airing the movie "Harriet" in the Beehive and hosting the school talent show.
According to BSU's President Yasmin Toto, the mission of the club is to provide a support group, a central voice and a platform to engage in for African American students who attend SAU.
"One of my best memories from being in BSU has to be attending The Big XII Conference," Toto said. "The Big XII Conference is where multiple schools meet each other's BSU clubs. We listened to monumental guest speakers such as Angela Davis, but unfortunately, COVID kept us from meeting these past couple years."
There have been many events surrounding the club as time goes on; however, the unity march has been said to be an iconic representation of what BSU stands for. The unity march is an annual open invitation event where students gather to walk around campus with signs positively referencing black rights.
"We plan to do our annual Unity March to establish that sense of unison on campus for the students and faculty to come together in a communal setting," BSU's Vice President Malcolm Walker said.
Not only has BSU made an impact on the student body, but it has left an everlasting impression on the officers directing it behind the scenes.
"My biggest takeaway from being part of BSU is embracing growth and understanding. We have so much more to achieve and graduating college is only the tip of the iceberg. Continue to experience the world through your own eyes and be present within a given moment," Walker explained.
With most of the current officers graduating within the next year or so, Toto and Walker emphasized their predictions and aspirations for the future of the club.
"I definitely would want to see the unity march remain a consistent annual event. I also think keeping the talent show during Black History Month is important for the club," Toto said. "I would absolutely love to start working more with other BSU clubs surrounding campuses such as Blackhawk and Augustana".
The majority of the club's events are organized and constructed by students, but Walker emphasizes the need for more involvement to become a mainstay on campus.
"One thing I would change is the number of officers in the club. If given the chance I would potentially add a Public Relations Chair (PR) to work on the advertisement aspect of the club," Walker said. "This new position would create a role focusing on fundraising and different events that show the BSU's presence on campus. Expansion would be the change I would want for this club in the future."
BSU has grown by leaps and bounds within the past four years and the sky's the limit when it comes to the future. Join BSU at their next weekly meeting on Tuesday, March 1st at 8 pm in the Multicultural House. It is never too late to show your support! Follow BSU's Instagram page for more information.