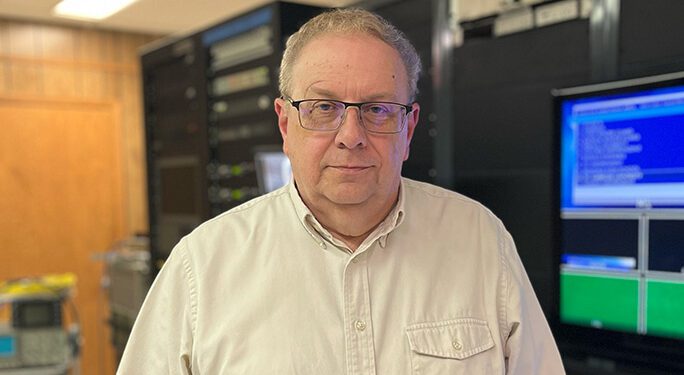 The lights flicker to life in St. Ambrose University's television studio, and the cameras begin their harmony of a low hum Jon Anderson starts his busy day. He is checking equipment, helping the station change with the times, and assisting students in creating quality programing for the television station.
It has been Anderson's job for the past 32 years to make sure that the station stays up and running. Anderson's interest in electronics is what got him interested in broadcast engineering, and to hear him say it, it's been a lifelong passion.
"I've always had an interest in electronics and technical things," Anderson says. "After my bachelor's degree (in political science) I went to a tech school, and while I was there, jobs opened up first in radio and then in television. So, I applied and won the jobs."
Anderson's path to St. Ambrose wasn't straightforward. He says he worked in sales and various other areas and worked as an engineer for WQUA-AM and KRVR-FM and then WQAD-TV for about eight-and-a-half years. It wasn't until he got some help from a childhood friend that he decided to go for the job at St. Ambrose's television station, then branded TV-11.
"I'd been friends with another professor here, Duke Schneider, since grade school," Anderson says. "So, when I moved up here to go to tech school, that was daytime only and I didn't have a job yet. So, I came and volunteered at Ambrose and the TV area and then went to WQAD. Then, they started advertising for an engineer here and I decided to apply and got the job."
Anderson started at SAUtv on September 1st, 1990, and from then on it has been his job to help the station through many technical changes. When Anderson started, the news set in the TV studio was simple, just a rolling platform with a black curtain as a background. But, as time went on, the TV studio changed with the times.
He oversaw the change from standard definition cameras to high-definition cameras, from 3/4-inch video tape players and tapes to video servers that can load a video in seconds. Eventually, after all the changes settled down, Anderson was able to fall into his daily routine.
"I would turn on equipment and set up equipment," Anderson says. "If we had shows in the studio, I would go set the studio and check the microphones. I would also make sure that we would be prepared for the future, by making sure that if the equipment was broken, I'd fix it and if it was aging, I'd start research on how to replace it.
What Anderson did by himself now takes the help of two or three student workers. Even when he needed help it took a lot of work.
"When we did live basketball, we'd have to pull all the equipment we needed for a broadcast, and this was pre-elevator," Anderson says. "We walked everything out of here, up the stairs and out. When we had the bigger portable switcher, we'd used to have to take it up Gaines Street, and over curbs and cutting through parking lots. It's a lot easier to do now."
While things may have gotten a lot easier, change also comes with adjustments. Anderson learned all of his broadcasting expertise back when everything was analog, and when places like the campus radio station studios went completely digital, he says it was a constant adaptation.
"You have to keep up; it's constant stuff," Anderson remarks. "You have to study, and look at what the current trends are, you have to go to seminars to see what the current thing is. That's just about any job in life. You don't stand still, and if you do, you're going to fall behind. You have to keep moving forward and going for the next thing and learn about it, or you're going to get left behind."
Anderson has tried his best to keep both the radio and television stations current, and alongside Schneider he has. Both of them saw the television station's evolution from a simple analog setup to the more advanced digital configuration, and along the way, Anderson says it's the connections he's made with the students that have been a part of SAUtv that he remembers most.
At the end of the semester, Anderson will be leaving SAUtv after 32 years of service. With his newfound free time, Anderson hopes to finally make some repairs to his house, get out and travel, and indulge in a passion of his by attending some of his favorite drum corps shows across the Midwest. Time well-earned after a long career behind the curtain and behind the lens.