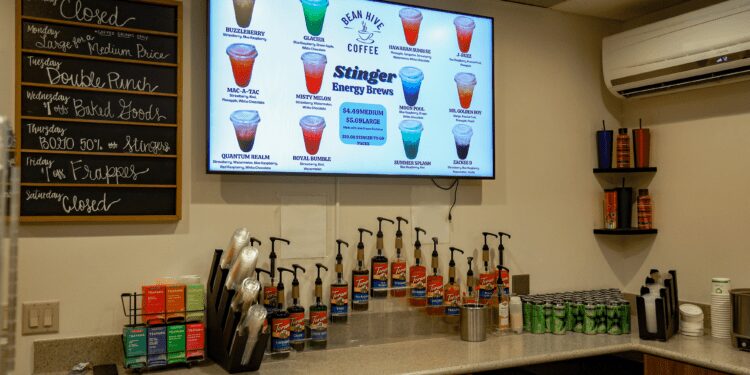 In the last 30 years, obesity rates are increasing from excess sugar in one's diet. According to Diabetesed.net, evidence suggests that high sugar intake is correlated with heart disease, cancer, diabetes, and weight gain. Nationally, young adults, ages 18-25 are consuming energy drinks at a high rate.
At St. Ambrose University, energy drinks are sold and promoted as exciting, flavorful, and a boost of energy. But what are the psychological and physiological effects on students who
consume energy drinks?
Bella Wheeler, a student-athlete at St. Ambrose drinks a Zero Ultra Monster drink every day and has her own experiences with anxiety and sleep problems.
"I work at the Hy-vee Fresh and Fast gas station in Bettendorf. I end my shift at 10:30 pm, sometimes later. On top of school, practice, and ending work late, I have a Monster in the afternoon. Sometimes I have a hard time falling asleep due to the caffeine."
A popular energy drink purchased by students at St. Ambrose University is called a "Stinger." Stingers are made by the popular energy drink company, RockStarr, and Torani flavored syrups of your choice.
Jesse Lopez, a Beehive and coffee shop employee explains, "When I first started working in the Beehive I had about three stingers a day. I went crazy, but now I calmed down because [before] I would not have food in my stomach and I'd feel sick and anxious."
Lopez agrees that energy drinks might not benefit him in the long run.
"Sometimes drinking multiple energy drinks would make me more tired instead of helping me. I dread doing schoolwork if I have a sugar crash from too much caffeine."
CJ Busch, a Field Marketing Coordinator of Sodexo Food Court, says around 150 to 200 stingers are sold in the Beehive every day and continue to increase due to higher temperatures around campus.
"A lot of people come through the Beehive, especially now that the weather is nicer. Everyone wants a cold drink," he says.
According to the National Center for Complementary and Integrative Health, "Next to multivitamins, energy drinks are the most popular dietary supplement consumed by American teens and young adults."
Energy drinks may be tasty and popular, but can cause "depression, sleep problems, increased aggression, anxiety, and substance abuse. All of those are risk factors associated with drinking excessive amounts of energy drinks," says Senior Psychologist Dr. Amy Adler, Diabetes Education Services.
"Any energy drink on an empty stomach is asking for a sugar crash. It is important to be aware of your eating habits," says Sawyer Mackovitch, a frequent visitor to the weight room. He later explained he is aware of the added sugars and ingredients in energy drinks.
The Dietary Guidelines for Americans recommend the maximum number of added sugars in a 2,000-calorie diet is 12 grams.
One can of Lime Freeze Rockstar (incorporated in a stinger) at SAU contains 48 grams of sugar, equivalent to 11.47 teaspoons of sugar, almost the maximum amount of sugar a student should consume before the extra syrup flavoring is added.
"A team of cardiovascular researchers at the esteemed Mayo Clinic in Rochester, Minn., reported that a single can of Rockstar energy drink can boost your blood pressure and cause the fight-or-flight hormone norepinephrine to increase in just 30 minutes," reports Los Angeles Times.
Almost all energy drinks contain excessive amounts of added sugar. As the weather becomes hotter and more students want a cold drink to cool them down, students must recognize the benefits of energy drinks, but also be aware of the added sugar as well.
Although stingers and other energy drinks can cause psychological concern for some students, they are a great social and popular aspect of the culture at St. Ambrose University. Health experts say long as the student pays attention to their eating habits and makes good food choices, as well as how they are feeling emotionally and physically, energy drinks in moderation are okay.
Sydnee Horstman is a staff writer for The Buzz.