Bee Cheerful!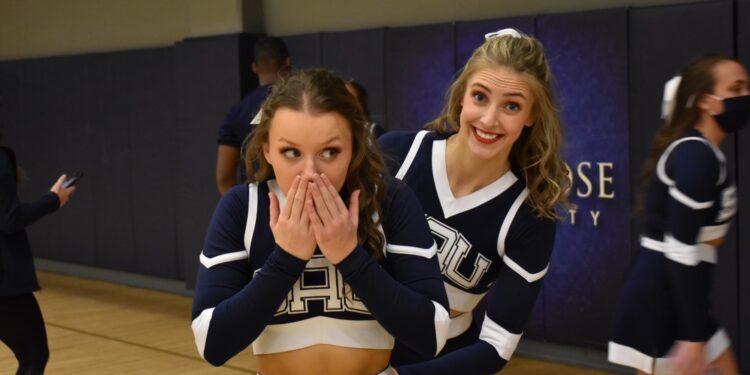 The Fighting Bees' cheer blue squad has competed at five competitions so far this season and remains undefeated with progressively better scores. They are expecting to continue the streak at regionals on February 26th.
Lainy Pierce and Eliza Dzurisin are sophomores on SAU's blue squad. They chose to participate in cheer at Ambrose because it is considered a sport and they are able to receive scholarships, unlike most schools.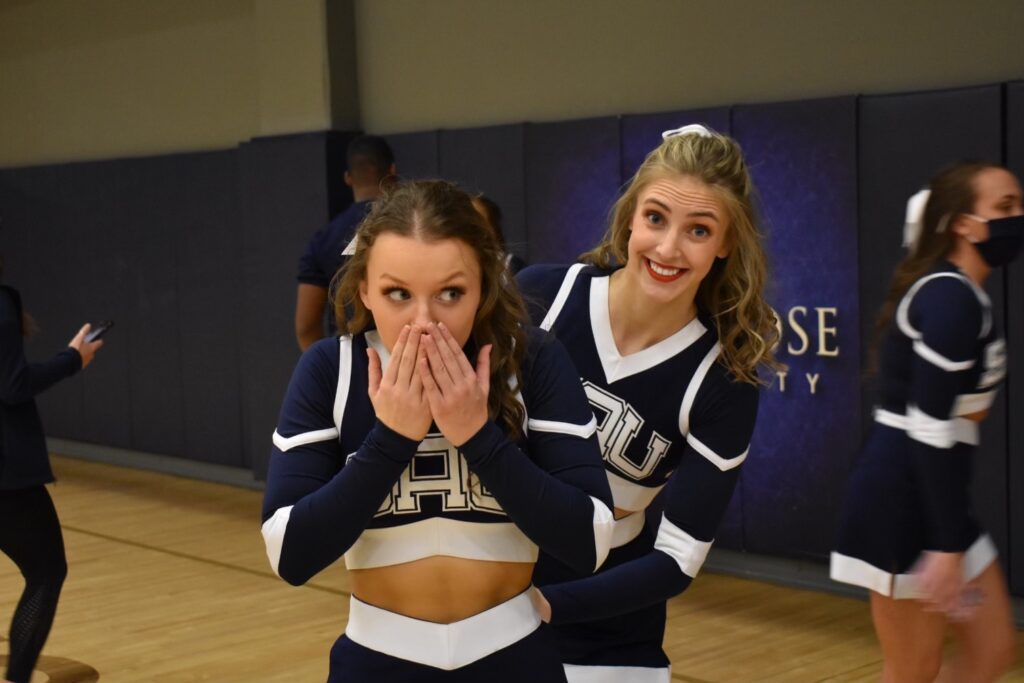 "We love an environment where we can stay in shape and have fun. We have both cheered our whole lives, so it would be weird to not continue throughout college," Dzurisin said.
Since Saint Ambrose is hosting regionals this year, the girls are very excited to show off their new, improved, and cleaned routine to all of their family and friends.
They have been preparing all year for competition season with workouts twice a week early in the morning and practice four times a week for two and a half hours.
"Even though the season is hard I am reminded by coach to not be scared of my own routine," Pierce said.
To these girls, being a cheerleader is a lot more than an enthusiastic athlete who stands at the sidelines at sporting events. Teamwork is very important along with being adaptable to change.
"A cheerleader is someone who has a good work ethic and will put others before themselves. You have to be willing to make changes and spend a lot of time prioritizing the sport. Also being
peppy and performing in front of a crowd is important. Our team is a little weird, we are definitely not normal, " Pierce said.
Dzurisin agreed that cheerleading builds important lifelong character qualities.
"A good cheerleader and a good team is someone who is hardworking, dedicated, and passionate. You must be able to be open-minded and take corrections well, while also adapting," Dzurisin said. 
The girls' main goal for this weekend is to win but also hit their routine to the best of their ability. They are hoping by doing this that they will bring home Ambrose's first cheer national championship. Make sure to stop by Lee Lohman at 11 pm on February 26th to watch the team hit their routine!