At SAU, You Matter.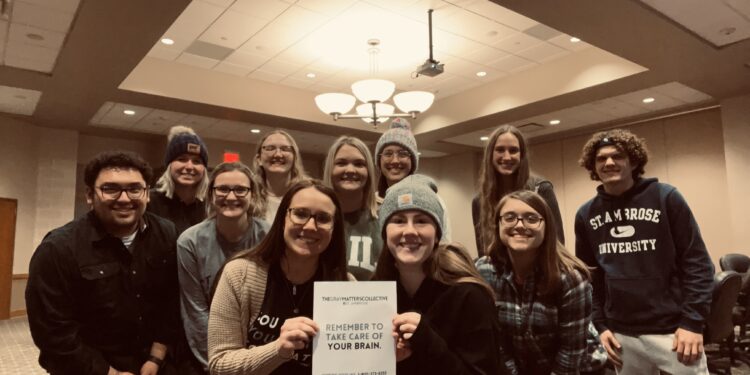 Mental health is simply not a black and white issue, there are endless shades of gray.
The gray in our lives represents the unknown to the millions of questions that we may never find the answers to. It is the fears and stressors that we endure on a daily basis that hold us back from being our true and authentic selves. But, with each twisting and winding road that this life may bring mental health matters. The gray matters. You matter.
The Gray Matters Collective was founded in 2018 with a mental health campaign led by Haley DeGreve and Kevin Donovan at Augustana College. It started as a black and white poster campaign with 60 participants and has grown into a local movement. Their mission is simple: end suicide. They wanted to make known to all that mental health is important and changes need to be made and seen. 
In the spring of 2022, The Gray Matters Collective expanded to St. Ambrose University as mental health awareness and suicide prevention movement that is a student-run and student-led organization. The SAU chapter brings the total number of chapters to seven including five Quad City area high schools and Augustana College.
DeGreve has previously stated that her passion for advocating for mental health and creating the organization derives from her own personal mental health battles and from the death of two close friends by suicide. 
"As suicide is the second leading cause of death in ages 10-24 in America, our mission is focused on providing resources, education, & community to young people and those in the 'gray.'"
The goal is to educate, build community, and bring mental health awareness to all because every person matters.
SAU's  Gray Matters Collective is led by student chapter leaders Allison Lauer and Abigail Kroll.  Lauer and Kroll met Ms. DeGreve at a club event on campus and were immediately empowered and motivated by her presentation on The Gray Matters Collective and her passion for ending student suicide.
Left: Allison Lauer, Right: Abigail Kroll
Lauer and Kroll immediately took the necessary steps to make the collective an official and approved chapter at SAU. 
"It could help a lot of students and we just want to provide a safe, comfortable environment where students can engage with us, can learn about us, and we can learn about them and get a sense of community," Lauer said.
The chapter leaders emphasize the importance of the group as a safe place for students to come and discuss the challenges of mental health. Each meeting offers tips, activities, or discussions centered on student mental health to help students of SAU. 
"The Gray Matters Collective gives you the tools, knowledge, and training you need to help someone in need. Our goal is to educate, provide resources, and empower students," Kroll and Lauer said.
Every chapter is required to have a faculty advisor, and student chapter leaders are trained by professionals on how to present suicide prevention conversations to students. 
Each meeting will be held once a month on Thursdays to prevent adding extra stress to students' busy schedules. Times and meetings will be posted on The Gray Matters Collective SAU Instagram and its Facebook page.
Everyone is welcome because you matter. Your mental health matters. The Gray Matters. 
The second meeting hosted a yoga secession to help with stress.