"Are We There Yeti" Produced by Haus of Ruckus Hits the Ambrose Stage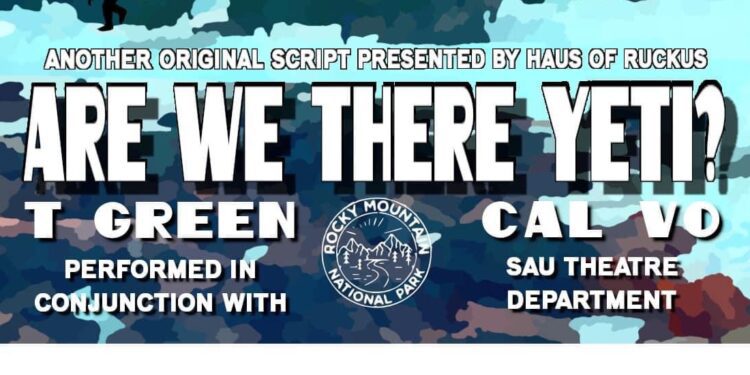 Since stepping back on camps the St. Ambrose University Theatre department has been working hard on their newest production, Are We There Yeti, produced by local theatre team Haus of Ruckus.
Haus of Ruckus is a newly founded theatre group led by a duo in the Quad Cities. The creators of this company are T. Green and Calvin Vo. Green an SAU graduate and local actor. Green is a regular improv performer at Comedy Sportz quad cities and has recently started a standup comedy career. Vo is a writer, standup comedian, and artist who graduated from Augustana college. The duo met in a community show, hit off, and started making their dreams a reality.
The Duo states,
"Haus Of Ruckus is a production company that focuses on original and often surreal works. We like to tell casual queer stories as well as silly and irreverent plays and tackle everything we do with an eye of precision and professionalism. We take comedy seriously."
Are We There Yeti is the duo's fourth play centered around their hilarious and loving self-insert characters Johnny and Fungus. In this adventure, the team goes on a trip to Colorado to visit Fungus' dad and ends up in a tangled web with Sasquatch in the center. It's a world premiere script so audiences will get to see something different that they won't get to see anywhere else.
Daniel Rairdin-Hale, director of the theatre department is always looking for new creative opportunities for students to be involved in. He shares his thoughts on this new collaboration,
"We are so excited to be hosting the Haus of Ruckus on their next production. This is the first time that the SAU Theatre department is partnering with an outside production company in this way. Haus of Ruckus is a natural fit to pilot this guest production idea since so many of their members are SAU alumni. They are providing some excellent acting and tech opportunities for our current students. I've seen a few of their shows downtown and they are always a good time; I'm hopeful that their excellent reputation in the Quad Cities arts scene will draw new community members to campus while also providing something a little different for our campus community to experience."
The duo shares their thoughts on this collaboration with St. Ambrose University theatre,
"It hasn't felt much different and that's a compliment. Our own ensemble of actors has multiple SAU alum, some of them are even in this cast! This cast has members of our usual ensemble mixed with Ambrose students and everyone has done a great job working as a cohesive unit. Everyone is eager to work and not afraid to look stupid. It was important to us in this collaboration to treat all cast members as professionals in our company and everyone is killing it."
T. Green is a St. Ambrose alumni who earned their theatre degree. T. shares their thoughts on being back on the SAU stage,
"Obviously I have a personal connection with SAU and have performed and directed in the studio theater a handful of times. I am thankful for the Saint Ambrose theater department and will accept any chance to work with everyone over there again. The theater department was one of our first supporters, agreeing to lend a hand from day one. But we always intended for Haus Of Ruckus to function as a sort of pop-up company, that would collaborate with a multitude of theaters so this was an opportunity we jumped at "
Current first-year student, Ethan Windt, shares his experience of being a part of this production,
"I've been really loving and experiencing. I've had the chance to grow with professionals in the area, and people I never would've met otherwise. It's a super open space where we can bounce ideas off super easily. I have had an insane amount of fun doing this production."
Are We There Yeti premieres on February 24th, and runs for six performances before closing the following weekend. Tickets are available through the Galvin Fine Arts Center Box Office. https://www.showtix4u.com/event-details/70836