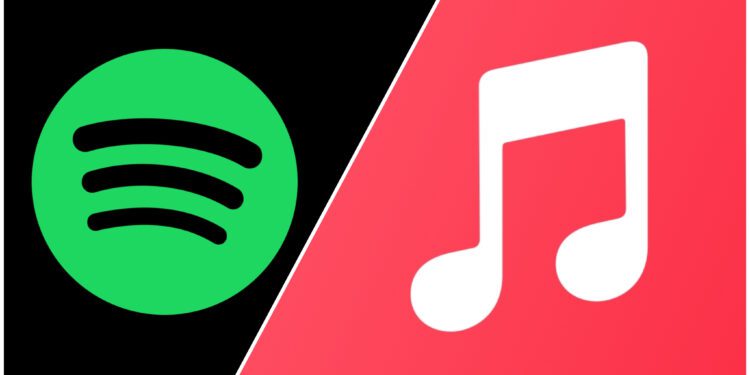 Whether studying late at night, working out at the gym, or getting ready in the morning for classes, like most college students, here at SAU they are listening to music through the convenience of their music streaming service. There are many options, some better than others, that SAU students use.
Students at St. Ambrose University were asked about their favorite streaming music service.
The two most prevalent services The Buzz found were Spotify and Apple Music. At a glance, both offer a wide variety of music to listen to with a favorite artist, like Taylor Swift or Morgan Wallen, as well as ambient music for study sessions or meditation.
The biggest difference between these two rival streaming services is the features it provides.
SAU senior Eliza Dzurisin says Apple Music is easy to use compared to Spotify. "I heard Spotify has a lot of features, but it was too complicated to use. Apple Music is just easier to navigate," says Dzurisin. Apple has been known for its clean user interface simplicity, so it is no surprise its music streaming service follows suit.
However, many students say they love to use the different neat and innovative features Spotify offers.
Junior Kaden Swanger explains, "You can go in-depth with the music by changing the frequencies of a song." This feature allows listeners to adjust the frequency bands such as bass, treble, and midrange to their liking.
Apple Music does have a feature called Apple Music Sing, which allows listeners to become singers. Sophomore Graysen Gerlinger explains, "You can turn down the main vocals on the song and sing along. It also shows the lyrics." On songs with two different vocals, the lyrics are displayed on different sides of the screen to follow along.
Gerlinger adds, "It's really fun to do the Sing feature with my friends and when I'm bored in my room."
Sydnee Horstman, a sophomore and Spotify user, says she loves to create different playlists for studying, working out, casual car rides, and one just for her favorite artist, Taylor Swift. When creating these playlists, she says she likes that Spotify suggests different songs to add that fit the mood for the said playlist.
"If you make a playlist that only has three songs added, it can filter songs that are similar and you have the option to add those. This lets me listen to different artists that I never would have found in the first place."
With college expenses, students are always trying to save money. Both Apple Music and Spotify have deals that allow students to use their service at $5.99 a month. Will Smith, a senior, believes these prices are reasonable. "I get the student discount, it's only $5.99 a month so that is helpful for many college students who struggle with financial problems."
Music streaming services continue to integrate into the daily lives of college students. The choice between Spotify and Apple Music comes down to individual preferences. Apple Music strives for simplicity, appealing to a straightforward audience. On the other hand, Spotify stands out with its advanced features providing a deeper music experience. 
Ryan Russo is a staff writer for The Buzz.