An adventure through the making of She Kills Monsters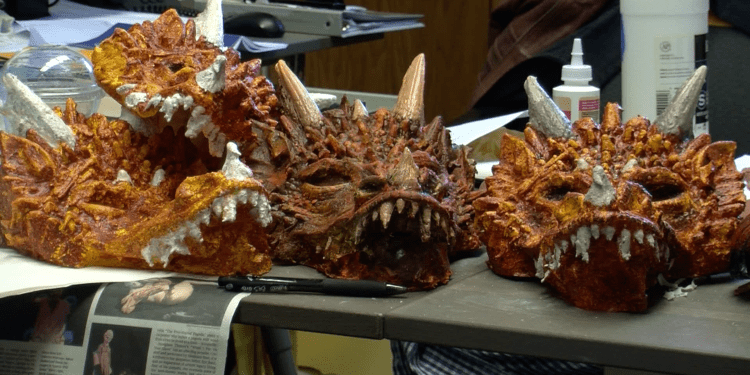 The St. Ambrose Theatre Department is in preparation for its first mainstage production of the season. The play She Kills Monsters by Qui Nguyen will be the first show performed on the Allaert Auditorium stage since Romeo and Juliet in the spring of 2021. 
She Kills Monsters is a dramatic comedy that takes place around the fanciful world of Dunguns and Dragons. Featuring familiar characters to the game, the story follows Agnes Evans as she is learning to deal with the death of her teenage sister, Tilly. When she stumbles upon Tilly's Dungeons & Dragons notebook, she takes off on an adventure in the imaginary world that was Tilly's refuge.
Kris Eitrheim is the scenic designer for the show and oversees the creation of this fictional world.
"There is a major mask campaign going on right now in the scene shop, that kind of shows the imagination of some of our puppet creatures," Eitrheim said. "We have a six-foot beach ball in the scene shop right now, that is being cut up for some kind of creature and they are planning on having a five-headed dragon, which is part of the show."
There is a lot of work that goes into a show like She Kills Monsters, and it takes a lot of time and effort from many different people.
"We typically start the process anywhere from several months to a month before we start casting the show," Eitrheim said. " So the director has some type of idea of what the world might look like when we get to that point."
Preparing for a show with so many familiar monsters and creatures, Eitrheim had to find his inspiration from somewhere timeless.
"I needed to get some of the Dungeons & Dragons books for ideas and to do a majority of my research," Eitrheim said. "We try to envision what it is we want this world to look like. We are mainly focusing on some of the Dungeons and Dragons characters and monsters in the show rather than the word because there is a constant shift between the real world and fantasy world."
With November just around the corner, Eitrheim is anxious to see the show come together.
"I'm looking forward to seeing the monsters as they come out of their paper mache process," Eitrheim said. " And create a landscape of the Dungeons and Dragons world that I can see in my research. I'm hoping it will tickle the fancy of people who like Dungeons and Dragons."
Though this show is still in the beginning stages, tickets are now available for purchase. She Kills Monsters is running for two weekends, opening on November 12.