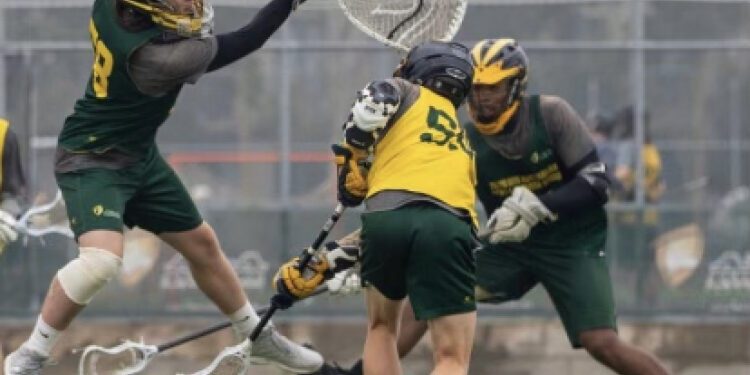 The transition from Australia to the United States struck Lachlan Hodge harder than he expected. Athletics and schooling came as a large culture shock compared to what he was used to.
Lachlan "Lachy" Hodge '24 is from Williamstown, Australia. He started playing lacrosse in 2015. Lachy decided to start playing lacrosse for the social aspect but soon began to fall in love with the sport.
"I was inspired by one of my mate's dads because he was the captain of the Australian team," Hodge said.
Hodge decided to come to the United States for Saint Ambrose because his scout thought it offered a good balance between academics and athletics.
There are a lot of major differences between the United States and Australia. These two countries drastically contradict each other in several ways. In the United States, it is very common to take classes outside of one's major while in college. In Australia, students tend to focus solely on one or two subject areas.
"The biggest cultural shock was the way in which people my age carry themselves. My mates back home act as adults but people here act more as children," Hodge said.
Hodge explained that the U.S. approach to athletics and education didn't quite meet his expectations.
"I played lacrosse as a club sport. Lacrosse was not seen as a sport in high school. You would get scouted and eventually move to the representative level. In Australia, we are more advanced on an academic level. Everything I am learning now as a freshman in college I learned in my sophomore year of high school," Hodge said.
Hodge also believes that mindset has a great impact on how motivated athletes in Australia are compared to the United States.
"In Australia athletes were way more competitive. In the United States, we are less driven. I would rather break a bone than get scored on," Hodge said.
When moving to the United States Lachy realized how much responsibility can shape your maturity. He said he would like to offer incoming international students advice on how to be more successful. Lachy wishes that he was just more prepared in general.
"Be prepared because you know it is going to be different but you are still surprised," Hodge said.