Addressing the Rising Crisis: Mental Health Tools for Students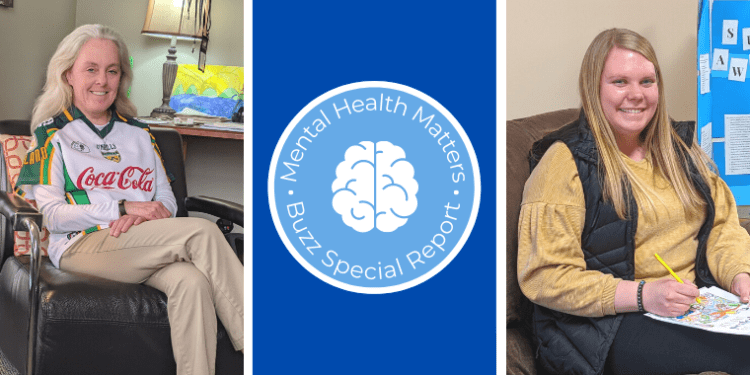 This article is the third in an in-depth three-part series exploring the current state of mental health matters on campus. The first article explored possible causes of the significant increase in counseling sessions experienced by the St. Ambrose University Student Counseling Center (SCC) and determined that signs point to difficulties brought on by COVID-19 and the success of the SCC's outreach efforts. The second article told the stories of three SAU students dealing with their own mental health struggles who came forward in hopes of making a difference. The third article explores resources available to SAU students to help them in their mental health journey.
---
The right set of tools or the right person can sometimes mean the difference between a good day or a bad day, or even between life and death.
Suicide is currently the second leading cause of death among college-age students nationally.
According to a report done by the National Center for Biotechnology, approximately 1,100 students in higher education institutions take their lives each year, a statistic only beaten by the number of accidental deaths.
Nationally, up to 44% of college students report having symptoms of depression and anxiety, and out of those diagnosed with a mental health disorder, 75% have their first episode by age 24. These numbers reveal an upward trend, which the Student Counseling Center is taking very seriously.
Tool One: The Student Counseling Center
A current SAU student was nearly a part of that suicide statistic.
"Last semester I tried to commit suicide," a sophomore student who wishes to remain anonymous said. "A lot of things happened. Then it finally got too much to where it was just like 'alright, I'm done.'"
This student was able to stop themselves in time and sought help at the SCC, but that isn't always the case for students struggling with mental health challenges.
"At my lowest moment, I found the right person to talk to me," the student said. "Therapy lets you fall in love with yourself. It makes you realize that there's so much more to life than this little little little thing. It's just an awesome self-exploration tool."
The Ask, Listen, Refer program, otherwise known as suicide prevention or gatekeeper training, is a program taught by the SCC for the very purpose of making sure students, faculty and staff can recognize the signs of a person who is possibly suicidal and connect them to the help they need.
For non-emergency situations, students can utilize up to six free counseling sessions at the SCC per semester. Even though the counselors can't officially diagnose any illnesses or prescribe medication, if you or they decide it's something you'd like to explore the counselors can refer you out to the community.
"If you don't think you need it, go for the client that you hope to someday serve," Dr. Oliver, the head of the SCC, said. "I think this information that we're trying to get out there is never lost on anyone because even if you don't need it you might have a close friend or family member or someday a client that you need to take care of that might benefit from some things that we can teach you."
Counselors are able to help you with much more than the 'typical' mental health issues like anxiety or depression, as was the case with SAU senior Ty Lewis who sought help for dealing with grief.
"Right before Covid hit is when I got accepted to Ambrose and transferred and stuff. Then in July of 2020, my father passed away," Lewis said. "I definitely needed support as far as my mental health journey. My mom and my girlfriend really pushed me to see a counselor, both had very good experiences seeing them."
The SCC offers a variety of other resources besides individual counseling, such as the online self-help program TAO, group workshops, support groups, mental health fairs, mental-health-based film viewings and an open office hour at 3:00 p.m. every Tuesday with the SCC's Outreach Specialist Lindsay Hohertz.
The workshops and support groups are vastly different from the traditional idea of group therapy sessions. While it varies from session to session, Hohertz has covered topics ranging from anxiety, to stress reactions, to eating disorders and more.
"Don't be afraid to seek help," Sarah Godwin, an SCC counselor, said. "Groups are a great informal way to get information."
The overarching goal of the SCC is to make mental health everyone's business in hopes of increasing everyone's comfort levels in looking out for each other.
The counselors believe that by decreasing the stigma surrounding mental health, students may begin to talk to one another more and discover that not every issue is a clinical issue, sometimes all it takes is for students to be kind and look out for one another.
Currently, the SCC is struggling to dispel the misconception on campus that has been circulating for what is believed to be a couple of years that the SCC is too busy to help you.
SAU senior Allisyn Blaser has been struggling with anxiety and other mental health-related difficulties for most of her life, but never sought help until recently.
"I felt like a nuisance, like I was taking resources away from someone else, but looking back I needed it. I would have been struggling still if I hadn't done it," Blaser said. "If you've ever thought about going to therapy you should try it at least."
What Blaser thought is not the case at all. The initial screening appointment after a student contacts the center is set up in 72 hours or less and the student's first appointment is set up for two weeks or less. This is subject to both the student's and counselor's schedules but is generally followed.
"I always thought 'it's not that bad for me' but what I've realized now is that my life wasn't that easy, its not that bad like I could survive but that's all I was doing was surviving. And now I'm thriving," Blaser said. "There's nothing wrong with me, I just need a little extra help, and that's ok."
To set up an appointment with the SCC call 563-333-6423, stop in-person at the Counseling Center on the second floor of the Rogalski Center, or email [email protected].
Tool Two: Crisis Lines
When students need immediate intervention due to suicidal thoughts or other mental-health crises, the following may be able to help.
Crisis and suicide prevention helplines:
Minority focused helplines:

For LGBTQ+ individuals call, text, or chat with the Trevor Project, at 1-866-488-7386.
An extensive list of racially focused helplines, therapy sources, and other mental health resources can be found here.

For a crisis or emergency on campus after hours follow the guide found here and call security.
Tool Three: The Gray Matters Collective
The Gray Matters Collective is a new mental health-focused club on campus created by students, for students. Its mission is to provide resources, education, & community to young people and those in the "gray."
Started by Haley DeGreve and Kevin Donovan at Augustana College in 2018, the organization has branched off into several local high schools and colleges, with the newest branch being here at SAU.
"We've always thought SAU was a perfect place for a chapter because it's very welcoming, and supports its students," DeGreve said.
Allison Lauer and Abigail Kroll are the founding chapter leaders here at SAU, who were inspired to start a chapter after speaking with DeGreve.
"It could help a lot of students and we just want to provide a safe, comfortable environment where students can engage with us, can learn about us, and we can learn about them and get a sense of community," Lauer said.
The organization provides suicide prevention training for group student-leaders, and it is advised and guided by trained staff.

Already, meetings have included fun mental health-based activities and exercises, like yoga with an instructor that focuses on both mental and physical health. Meeting times and locations are available here. 
For a more in-depth look at this new organization, check out this article by Alyssa Hecker.
---
This concludes the mental health series. Thank you to those who were brave enough to share their stories, and to you for reading.