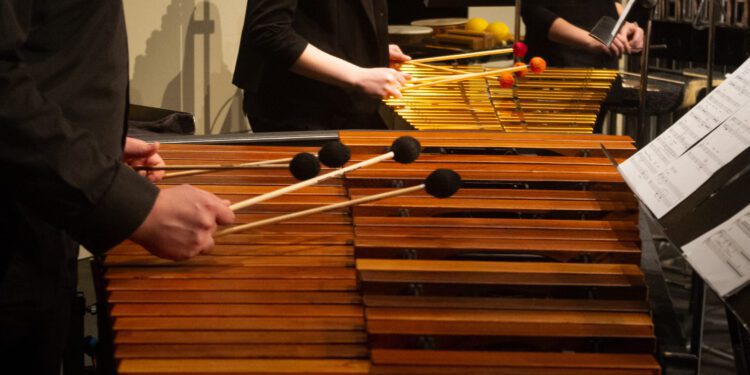 Each year, the St. Ambrose University music department hosts a Spring Invitational Recital featuring a handful of select soloists who perform pieces they have been preparing all semester. This year, the Spring Invitational Recital was on Sunday, April 23, and featured 13 talented performers (seven instrumentalists, three vocalists, and three pianists).
According to the head of the music department, Dr. Nathan Windt, this annual recital was established before his time at St. Ambrose, beginning about 15 years ago.
"The whole point of the recital is to feature exceptional students from their studios," Windt said.
At St. Ambrose, music students who are on a scholarship have the opportunity to take private lessons with an instructor in their given area of expertise (piano, voice, or their instrument). When it comes time to select performers for the spring invitational, the private lesson instructors make their recommendations to Dr. Marian Lee, who has been in charge of curating the recital in recent years.
It is important to note, that the recital is not simply a contest of popularity or sheer skill.
More importantly, Windt said, "it provides an opportunity to showcase talented students who have worked hard over the course of the semester."
Because of this, Windt recommends that musicians keep working hard at their craft and have conversations with their instructors about playing in the recital next year.
"We want the students to feel motivated to be a part of this. If more students want some skin in the game, they will practice harder, and that in turn will raise the performance levels of all ensembles. We have a lot of people in our department that are very capable of performing solos, and should perform them," he said.
Windt went on to say that the turnout for this year's recital was at the same level as past performances, but he felt the music was at a higher standard than it had been previously.
"Eve Wackerlin (freshman, flute) played "Rite of Spring," which is a complicated piece and she did a really good performance. Catie Johnson (freshman, soprano) did a wonderful job with interpretation and technique. Overall, I was really pleased with all the performances. Everyone showcased what they've been doing, and doing well. There were French opera, tango, and Bach arrangements to name a few; the variety and skill was amazing," Windt said.
According to Windt, not only were the performances great, but so was the turnout. Madsen Hall hosted around 80 people, most of whom were friends and family of the performers, but additionally some community members.
"It is always great to see the community coming to support SAU music, especially since the music program here is so different from those at similar schools, especially those at bigger schools," Windt said, "and I am always proud of the variety of academic programs and backgrounds that the students come from." He went on to say that in recent years, there has been an increase in the number of highly gifted students St. Ambrose is seeing come through the program; and not just as music majors.
"This creates higher quality musical experiences we all get to share with each other," Windt said.
If you missed the Spring Invitational Recital this year, there are still a few more chances to catch a glimpse of the SAU music department before the semester is out! On May 7, the vocal jazz group, STAMVOJA, as well as the jazz band will be performing their spring jazz concert at 3 p.m. . On May 13, at 11:30 a.m., Band Day will feature many instrumental groups including the pep band and symphonic band. Finally, University Chorale and the Chamber Singers will close out the year with their spring vocal concert on May 14, at 3 p.m.