A day in the life of nursing student Robin Leibold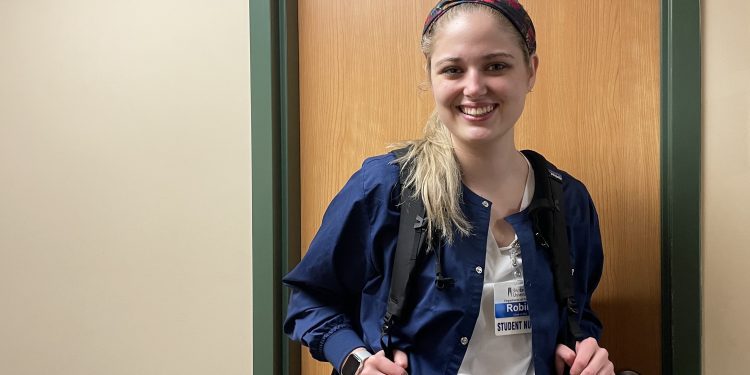 St. Ambrose's newest nursing student Robin Leibold gave The Buzz an inside into what a typical day of a nursing student in 2021 looks like. From day to night, Leibold is a nurse at heart. When she's not hitting the books, Leibold spends her remaining hours working at Genesis Medical Center here in Davenport.
A typical morning for Leibold starts at the sound of her alarm at 7 am so she has some time to get ready for her first class at 8 am which is nursing process. This class is a hybrid, so on Mondays it is online and Wednesdays it is in-person at the Health Sciences building. After 5 to 10 minutes of laying in bed, Leibold starts off her day by making her bed and then she begins to get ready for the day.
Every morning, Leibold makes sure to have a hot cup of coffee. Once she finishes her cup, she leaves her dorm room around 7:40 am to allow her plenty of time to commute to the Health Sciences building and settle in for class.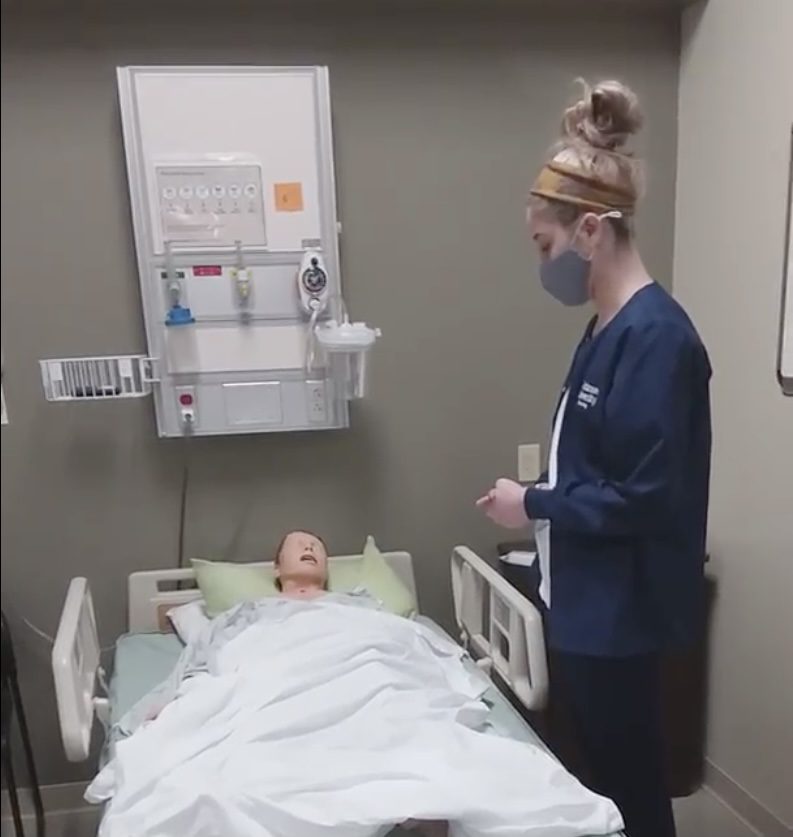 Photo courtesy of Robin Leibold.
At 10:30 am, Leibold moves to her next class for the day—introduction to contemporary nursing.
When her classes are online, Leibold describes her day as more easygoing, despite being stuck at her desk on Zoom or Webex all morning.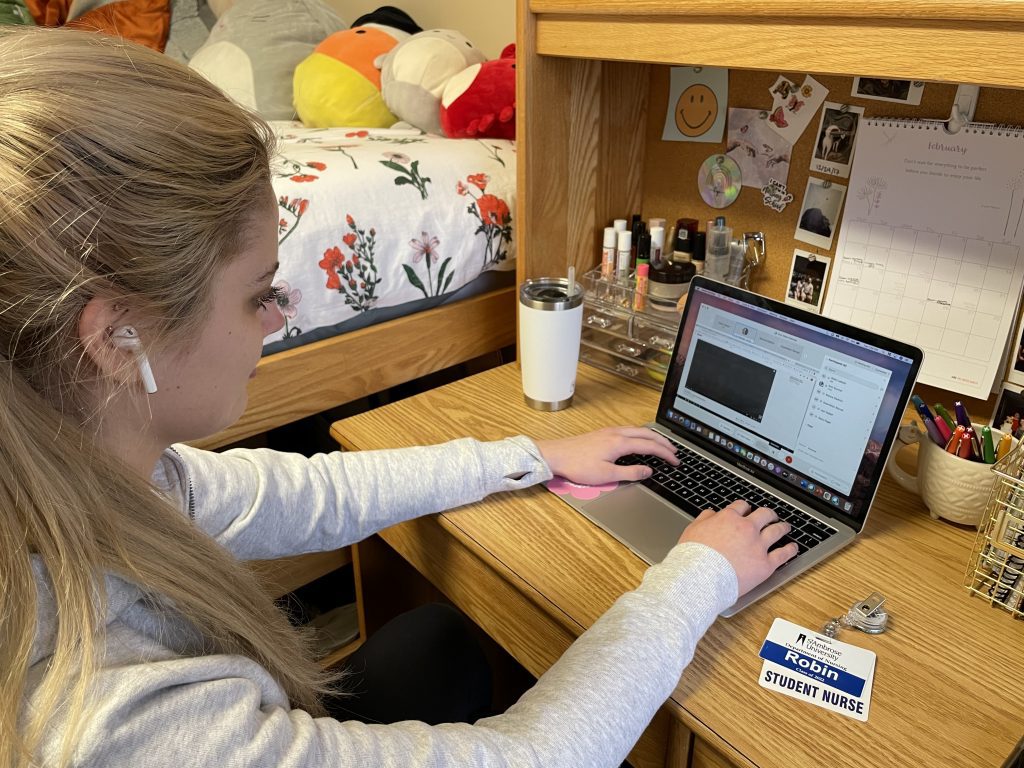 Photo courtesy of Katie Link.
Once back on campus, she then grabs some lunch from the Rogalski food court with her roommates. While she eats her lunch, she takes a mental break to scroll through social media, watch a Netflix show or talk with her roommates.
For the rest of the day, Leibold spends her time studying before she has to go to work. She sits at her desk and flips through her nursing textbooks and watches videos her professors post. This semester, Leibold found a way of studying that has been very successful for her.
"I found a great study method to use when studying for exams. It's called the Pomodoro study technique," Leibold explained.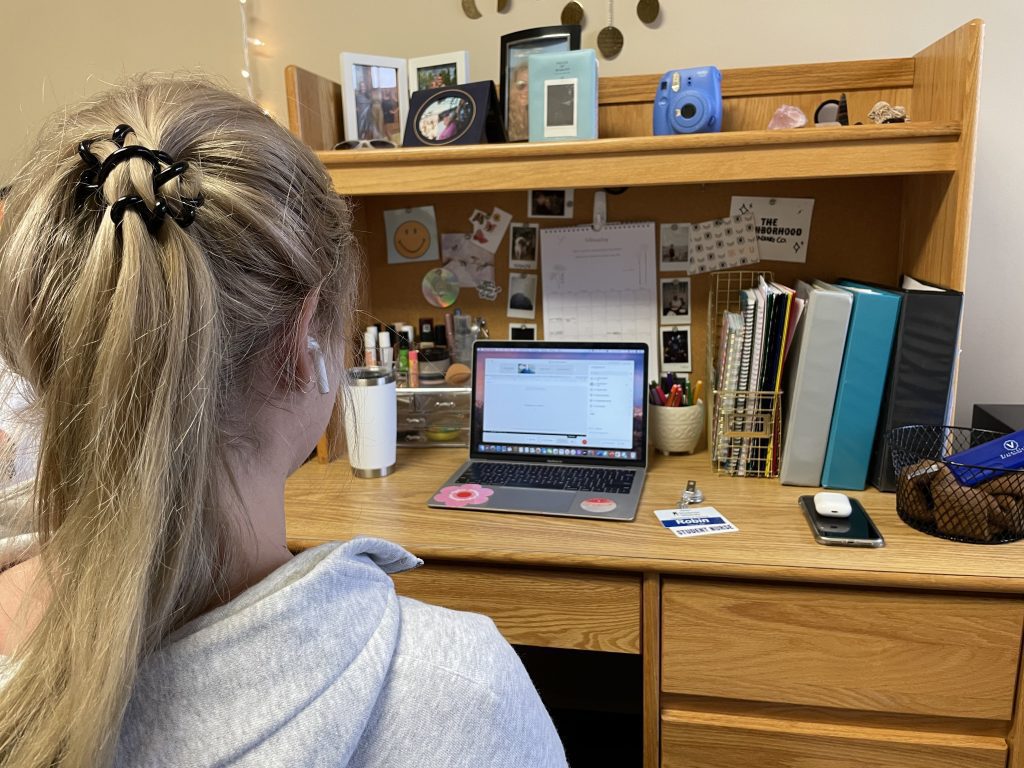 Photo courtesy of Katie Link.
This method is a time management system that encourages people to work with the time they have rather than against it. By using this method, you break your study schedule into 25-minute chunks separated by five-minute breaks.
At 2:15 pm, Leibold leaves her books to start getting ready for work. Leibold works at Genesis Medical Center on Fridays from 3 pm-11 pm. Once she returns to campus around 11:30 pm, she immediately starts getting ready for bed.
Every day is different, especially taking classes during a global pandemic. Some are online and others are in person and sometimes even both. Leibold isn't letting this affect her nursing experience here at Ambrose. She is looking forward to the rest of the semester and her future with the nursing program.