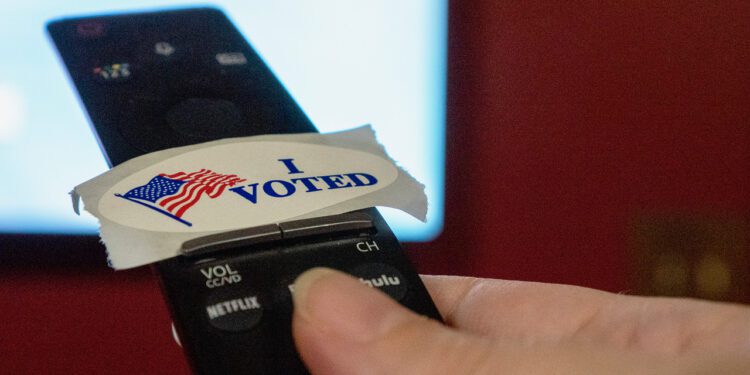 As fall marks the beginning of election season, one voter says the corresponding
"overbearing," "aggressive," and "dramatic" political advertisements are in season, too. Every
year brings a different election cycle along with their accommodating candidates. Members of
SAU's community, when asked how they feel about the political advertisements they encounter,
reveal an interesting pattern. An SAU sophomore student reports seeing an overwhelming
amount of advertising for Republican Presidential Candidate Nikki Haley, "The ads are funny,
but not a 'haha' funny, a sad funny. It is so right-wing and scary people believe it." One professor
states "The hate being spewed in political ads is awful, and I always find myself trying to hide it
from my young children."

Both federal and state elections happen every year, and bombard the voters
with media to sway them one way or another. The expectation of political advertisements is to
publicize the priorities of candidates to inform voters of their options prior to election day. The

SAU community is filled with eligible voters who say they intend to complete their civic duty
and vote in November. Political Science Professor Dr. Kim shares, "Campaign advertising is so
polarized it is beyond our control in terms of what a candidate is spending." While on the other
hand, some do not have strong feelings regarding politics in general. Junior Kaylee Parsons says

"I pay the most attention during election season, but the ads are so childish. I was just at Texas
Roadhouse when half the TVs began playing a Trump ad about how he could fix America, and it
was so dramatic."
When asked about their feelings regarding the political advertisements they encounter
many students say the majority of ads from both parties are negative- their purpose is to
complain about or defame a fellow candidate. Other students say they would rather the original
intention of advertisements be reality, using their screen time to explain their stance and plans if
elected, as one freshman football player says, "Advertisements should only be about
self-promotion," and many others echo his sentiments.

Junior student, Madison Lunsford, explains, "I never take any of the advertisements I see
seriously, it is like I am being forced to watch Fox News while trying to watch a movie on Hulu.

At this point, I just get angry every time one comes on." Students, who spend most of their time
consuming media on YouTube, Instagram, Twitter, or television will encounter political
advertisements. Another SAU Senior finds the advertisements to be "clickbait-y, and just further
push people to stay with their own party by getting them angry." Regardless of age, many voters
appear to have formed a consensus on at least one issue: the nature of political ads needs to
change.

Megan Weisrock is President of College Democrats and Model United Nations as well as a staff writer for The Buzz.