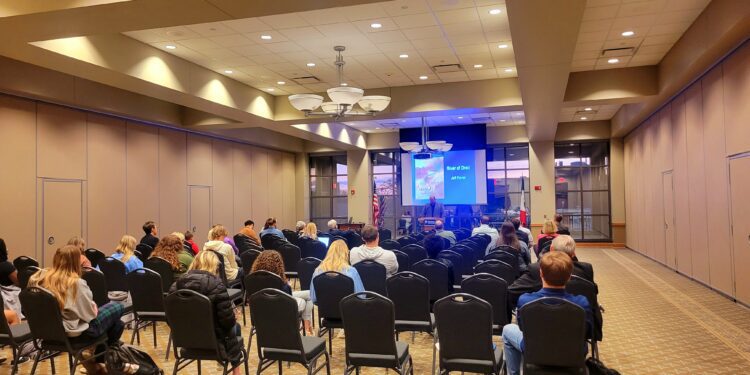 Every year, the history faculty at St. Ambrose University hosts the Richard Geiger Lecture.
Dr. Richard Geiger was a professor of ancient and medieval history at SAU for 39 years. When Geiger announced he was going to retire, loving alumni came together to raise money to establish a fund to bring in a speaker annually.
Beginning in 2002, many renowned speakers have graced the Rogalski Center Ballroom such as professors, writers, and even advisors of our history faculty. Unfortunately, Geiger passed away in 2016, but the tradition still carries on to this day.
This year, the guest speaker at the 21st Annual Richard Geiger Lecture was Dr. Jeff Forret, an alumnus of St. Ambrose University (class of 1995), and a professor of History at Lamar University in Beaumont, Texas. According to SAU professor, Dr. Keri Manning, most of Forret's work and research tends to focus on 19th-century U.S. history, southern history, and the history of slavery.
Forret has quite the portfolio of work, including several books such as Race Relations at the Margins: Slaves and Poor Whites in the Antebellum Southern Countryside, which is largely about how poor, white Americans and slaves worked together harmoniously during the times of slavery. "It challenges the general idea that regardless of where they were on the economic spectrum, white people were all against black people in the south," Manning said.
Another of Forret's books is Slave Against Slave: Plantation Violence in the Old South (2015). Slave Against Slave even earned the Frederick Douglass Book Prize awarded by the Gilder Lehrman Center for the Study of Slavery, Resistance, and Abolition at Yale University.
This book is about violence and interpersonal conflict between slaves. "There's been a lot written about the violence between owners and slaves, but not anything about violence between slaves. Getting into fights over property or marital disputes. It would be natural to assume that all slaves were allied with each other," Manning said.
The lecture Dr. Forret gave on Thursday, April 20 was entitled "River of Dred " and was focused heavily on the race relations between indigenous peoples, slaves, and white people in the upper Mississippi, which is more generally referred to as the Midwest. This lecture differed in that way from his previous works, which mostly focused on the southern United States.
"River of Dred" went into great detail about how the indigenous people of the valley were affected by white people pushing into their territory throughout all of American history up until the civil war. From there, Forret discussed The Dred Scott case, particularly what the decision meant for slaves living in Missouri, where all that separated them from possible freedom was crossing the Mississippi into the free state, Illinois. As a whole, the lecture included many quotes from historical figures such as Black Hawk, leader of the Sauk tribe. It was interesting to hear from voices that are so often silenced by history books.
The 21st Annual Richard Geiger Lecture, that Dr. Jeff Forret delivered, shone a light on the infrequently discussed race relations in the Midwest, and how they led to shaping the country into what it is today. The SAU history department had a successful night, and in the future will surely bring in more influential speakers for staff and students to enjoy.